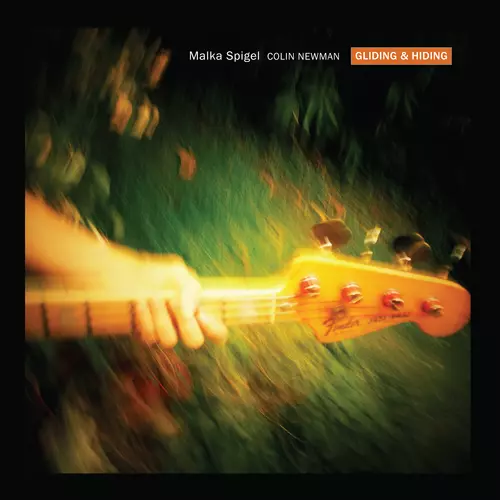 Gliding & Hiding
Available Formats
Tracks
Price
Buy
12" Vinyl Album
8 tracks

£

15.99

CD Album
8 tracks

£

9.99

Download Album (

FLAC

)
8 tracks

£

7.92

Download Album (

MP3

)
8 tracks

£

7.92

Download individual tracks
From £0.79
Description
Malka Spigel and Colin Newman - Gliding & Hiding
Gliding & Hiding presents one of post-punk's maverick spirits at her finest: Malka Spigel sprang to prominence as bassist and vocalist with the legendary Minimal Compact. She's also an internationally acclaimed photographer and video artist. Alongside her partner and long term collaborator Colin Newman, she's also one half of the electro-kosmiche duo Immersion. The pair are also members of the unique art-pop quartet Githead.

Yet often, Spigel's most personal work is to be found on her solo albums.1993 debut Rosh Balata is a contemporary rock album sung in Hebrew, with 1998's My Pet Fish showcasing an idiosyncratic amalgam of rock and electronics, whilst 2012's Every Day Is Like The First Day is a full blown psychedelic pop record, with guests including Johnny Marr, Alexander Balanescu and Julie Campbell (aka Lonelady)..

Now, Gliding & Hiding gathers together Spigel's gorgeous 2014 Gliding EP, with reworked tracks from the 1994 mini-album Hide. The result is a collection that ranges from sunshine pop, to minimal breakbeat techno, all the way to blissed out rock. NB on digital services this relrease is credited Malka Spigel | Colin Newman.

For the Gliding material, Spigel is joined by Newman, on guitar and keyboards, Ronald Lippok of Tarwater/To Rococo Rot on drums, and Gil Luz and Uri Frost of Mambas, on keyboards and guitar respectively, with additional guitars from Julie Campbell, and Matthew Simms of Wire. Some of these songs began life as live recordings from a gig at London's Lexington, but were then refined in the studio. Yet they retain the sound of a real band, bouncing off each other's considerable talents.

Strumgliding is a delightful airborne composition. If there is such a thing as feelgood art-rock, this is it. Newman, Simms and Frost's dense mesh of guitars add immeasurably to a sound defined by Spigel's low rolling bass tones. Unfolding across 7 soaring minutes, this is the sound of optimism.

Hacol Zaram Beyachad is a slice of sun-kissed pop setting Spigel's dreamy vocal over Lippok's gently skipping hi-hat. A version of this song originally appeared on the Rosh Ballata album, yet this is the definitive cut: Newman's cool, uncluttered production making for an elegant and sleek recording.

Tall Grey Buildings sees Spigel's trademark deep, dubby bass underpinning washes of treated guitar, with a wide-eyed lyric that suggests a situationist's sense of the 'dérive': an unplanned journey through an urban landscape, open to a world of fresh possibilities.

Dreamwalking's fuzzy riff, tumbling drums and hazy vocal melody, recalls Loveless era My Bloody Valentine. In fact Shoegaze is a touchstone for these recordings, where texture is equal to structure. However, there are other elements at play. Witness the dramatic mellotron derived backing vocals, or Spigel's almost Stooges like bass line.

The Hide tracks have recently been remade to create a more fulsome sound. Hide itself is Spigel in electronic mode, with its languorous Eastern keyboard lines forging a deeply hypnotic groove. Deceptively simple, repeat listening reveals just how richly layered this song is.

I Just Want bursts into life with a kinetic rhythm, which tips its hat to drum and bass, even as it's enveloped by warm soothing waves of synth. It's an unexpected and engaging combination which could only be the work of Spigel.

Originating on the Rosh Ballata album, Besof Hayom is one of her signature songs, which shows, when it comes to poignant melodies, Spigel is second to none. This version sees the timeless Hebrew vocal melody and gently cycling guitar creating a sense of effortless grace.

Returning Wheel was originally recorded by Minimal Compact for their Raging Souls album. Here's a chance to hear the song delivered with a sprightly spring in its step. Newman's production creates an airy atmosphere, giving the composition chance to breath, and lifting it to greater heights.

Gliding & Hiding serves as a career overview, whilst the reworked compositions prove how utterly contemporary her sound is. If you are new to the delights of Malka Spigel, this is the perfect place to dive in.
Tracklisting
12" Vinyl Album (VWM57)
Strumgliding (2014 Version)

Hacol Zaram Beyachad (2014 Version)

Tall Grey Buildings (2014 Version)

Dreamwalking (2014 Version)

Hide (2022 Version)

I Just Want (2022 Version)

Besof Hayom (2022 Version)

Returning Wheel (2022 Version)
CD Album (WM57CD)
Strumgliding (2014 Version)

Hacol Zaram Beyachad (2014 Version)

Tall Grey Buildings (2014 Version)

Dreamwalking (2014 Version)

Hide (2022 Version)

I Just Want (2022 Version)

Besof Hayom (2022 Version)

Returning Wheel (2022 Version)
Download Album (WM57D)