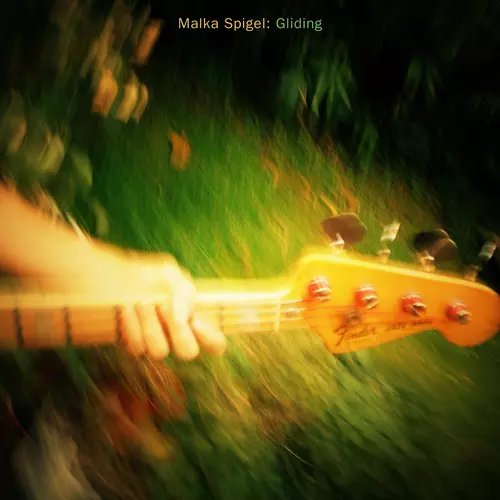 Gliding
Available Formats
Tracks
Price
Buy
Download Mini Album (

FLAC

)
4 tracks

£

3.16

Download Mini Album (

MP3

)
4 tracks

£

3.16
Description
Malka Spigel - Gliding
In winter 2012, Malka Spigel played a series of concerts in France and Israel, with a full band, to promote her third solo album, Every Day Is Like the First Day. The performances drew not only on her latest record but also on several of her earlier releases, with older tracks (in completely rearranged formats) becoming highlights of the live set and, in turn, laying the foundations for Gliding.

Immediately following the 2012 dates, Spigel embarked on a studio project with the band. The objective was to revisit those live highlights as a springboard for recordings that would capture the power and dexterity of the musicians' live performances and at the same time channel their creative synergy into new sonic territory.

Gliding features the core lineup of Spigel (bass, vocals), her partner Colin Newman (Wire/Githead; guitar), Ronald Lippok (To Rococo Rot/Tarwater; drums), Gil Luz (Mambas; keyboards) and Uri Frost (Mambas; guitar). Also making appearances are Matthew Simms (It Hugs Back/Wire; guitar) and Julie Campbell (Lonelady; guitar).

As always, Spigel gathers an eclectic range of styles. Her signature dubby bassline and a rolling rhythm anchor the harmonically lush "Strumgliding." Dating from Spigel's 1993 solo debut, Rosh Ballata, the Hebrew-language "Hacol Zaram Beyachad" (featuring Campbell on guitar and backing vocals) is elegant in its simplicity. Meanwhile, on "Tall Grey Buildings," Spigel transforms the austere urban landscape into blissful pop, in the process reinventing shoegazing for 2014. By contrast, the closer, "Dreamwalking," is a darker, harder-edged, more mysterious affair, with its kaleidoscopic layers of guitar, Mellotron and heavy, distorted bass. (The tracks were finished and mixed in swim~ studio by Colin Newman.)

Gliding is a transitional record, or perhaps a prologue, for Spigel: this is very much the work of an artist on the threshold of a new creative cycle, reimagining existing material in intriguing, forward-looking ways, brimming with fresh ideas and pointing ahead in myriad directions.
Reviews
"Creative synergy lies at heart of this EP as such Spigel tries and succeeds in recreating the live setting in which it came." - The Line of Best Fit
"it's outstanding" - The 405
"Shoegaze with its abrasion bevelled off, washes and spasms of guitar and choral synth with Spigel's mesmeric vocals and rolling, driving bass at the centre" - The Quietus
"An almost gauzy diaphanous sound that immerses your senses in its blissful dreamy, distant loveliness" - Sabotage Times